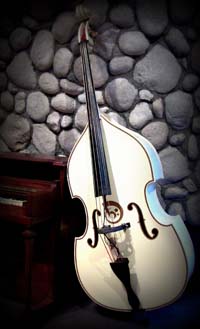 Blast Cult's "The Great White"
This bass is a true piece of art! It was custom made especially for Djordje in 2011 and has been his main instrument ever since. It has a 3 pickup system (BC piezo on the bridge, BC piezo under the fingerboard and BC/EMG magnetic at the end of the fingerboard) that allows him to slap it, play pizz and arco as loud as possible without feedback problems. And how about that beautifully pinstriped gold Djordje logo?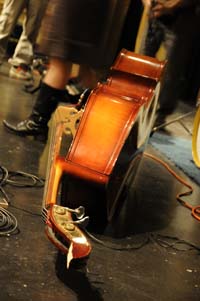 Cremona SB3
"When I moved to the States in January 2004 I was penniless, homeless, bassless and I desperately needed an instrument to practice for my final exam at the Music Conservatory. My friend Mark Rubin hooked me up with some Serbian ladies at Saga music and they helped me get a great deal on this one. At that time I couldn't afford much so I bought one of the cheapest basses available. I used it on hundreds of gigs and on dozen records including Fishtank Ensemble's Woman in Sin. This is also the bass I played on the Atomic Boogie video."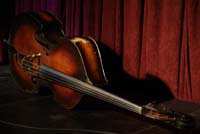 1950's Russian hybrid flatback
Djordje's first bass used on Atomic Sunset, Havana Whisper, Shira Utfila, Marsya, Kal and many other records. It has been broken and fixed many times. It still sounds amazing!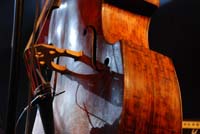 1900's Hungarian fully carved
This beautiful instrument has an amazing tone for classical music and jazz. Djordje used it mostly for playing at his Conservatory and small jazz clubs in Belgrade, Serbia.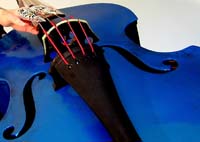 Blue Vera Kvark
"This is the bass that is on the cover of the Atomic Sunset's first album and video clip "Hot Rods & Pin-Ups". It belongs to my great friend and my first bass hero, Veljko, from the Serbian rockabilly band Vera Kvark. I used it for some photo shoots and video clips, but never in the studio."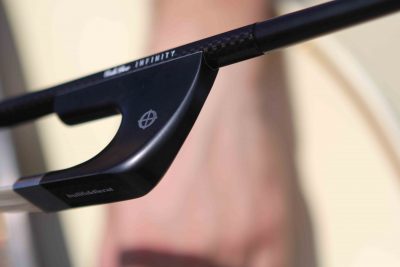 CodaBow – Infinity
Djordje is worldly known as a premier slap bass player, but he also has some mad bowing skills! After studying Classical music at the Music Conservatory in Belgrade, he developed his own arco style that he uses specially for surf tunes like Proud Hawk and Pagan's dance (Atomic Sunset). In 2015 he became a CodaBow ambassador among a few selected players. They even made a custom "bullfiddlecat" bow for him!
Thomastik Spirocore Orchestra (Medium)
"I have played Spirocores for more than 20 years and I've been their endorsee for more than 5. I have probably tried all the strings that are available on the market and always came back to them. These are the only ones that give me a nice balance between slapping, pizzicato and bowing. And, they always sound great!"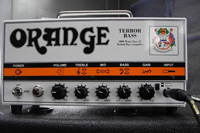 Orange Amplifiers
Djordje has been using Orange amps since early 2013. His current setup includes 4 Stroke 500W amplifier with two OBC410 cabinets. Blast Cult with an Orange amp, what a killer combo!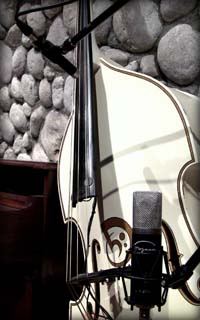 Mojave Microphones
It has always been really hard to catch the real natural sound of double bass. It is even harder with the slap bass, since there are two different sounds coming out at the same time. These amazing mics were recommended to Djordje by producer Samur Khouja. He used them during Fishtank Ensemble's Woman in Sin session and fell in love with MA-200 and MA-100. The Mojave folks loved Djordje's sound and wanted him on their team. Since then, Djordje carries these two mics every time he goes to the studio. Just check Fishtank's video clip and see (hear) what we're talking about!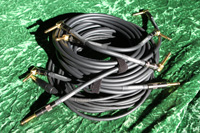 Mogami cables
If you think that all cables are the same, you obviously never tried Mogami!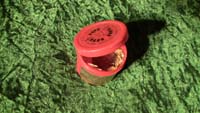 Pops rosin
One and only – handmade in Texas!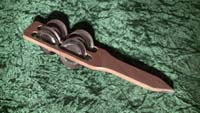 Zvecka "Bass tambourine"
Once often used among Serbian Gypsy musicians, this tambourine technique has almost completely disappeared. Djordje uses this particular zvecka to play some es-tam songs with Fishtank Ensemble.