Zulu Lounge at the El Rey in LA
Posted on
Hello Los Angeles!!!
Tonight (Friday 05/03) you definitely want to be at the historic El Rey for amazing quarterly event Zulu Lounge! This will be rare opportunity to see Djordje performing one of his unique bass/bellydance duets with great Susan Frankovich. They already played together in Serbia last year and they're about to do it again for the first time in LA! Djordje will also close the night with his band Fishtank Ensemble.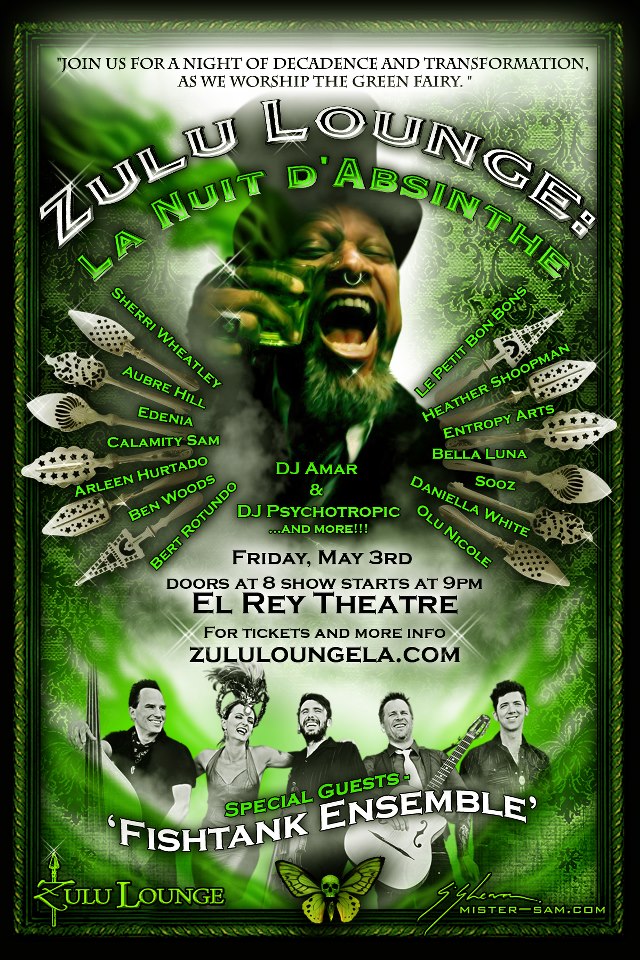 This Zulu Lounge LA is going to be an experience like no other. The night will be filled with mystery, intrigue, dancing, magic, voodoo ritual and so much more. A night of decadence and transformation with amazing bellydancers Aubre Hill, Michaella Manning, Heather Shoopman and DJ Amar.
We are weaving together for you theatrical production of world dance, world music, world wonder all while carrying us through a journey of transformation and discovery inspired by A Night of Absinthe!
The historic El Rey Theatre is our backdrop for this special 'one night only' experience! There will be special VIP seating lounges with optional bottle service and an Absinthe lounge where you can chase the green fairy, have your tarot cards read, and more!
There will be a silent auction the night of the show with proceeds to benefit charity.
Doors will open at 8pm. Show will start at 9-ish!